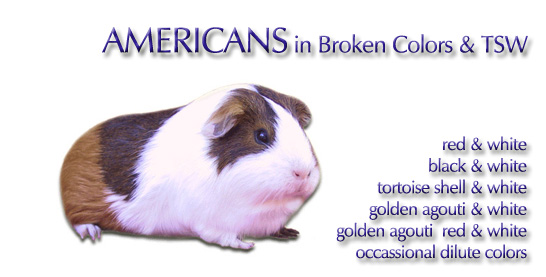 Welcome to Silvercrest. The caviary is located in the beautiful Willamette Valley of Oregon. As a breeder and exhibitor of American cavies in Intense Broken colors, I am committed to improving their type, patching and distribution of patching. Silvercrest recently expanded to include the Tortoise Shell & White variety. A project is underway to develop a small Dilute Agouti Broken line and a Black/White line. Litters arrive periodically, and because the Broken and TSW lines are developing, the best stock remains at Silvercrest for showing and breeding. Enjoy the website!
ARBA, ACBA & OCBS Member
ACBA Registered Caviary #3362-02
.American Broken Color Breeder & Exhibitor.


site updated October 28, 2005